A short while back I wrote a post The coming US Junta or O'Sullivan's Law and the US Military.
While I agree that there are many patriotic Americans who join the military to serve this country and would defy any order that harms its citizens, I don't think that describes our entire military.
Case in point, Vote Vets.
VoteVets is a Progressive political organization, emphasis on Progressive.
If you have not been following foreign affairs, protesters (what CNN calls violent Islamists) are storming the American embassy in Baghdad, with the backing of Iran, waving the flags of Iranian backed Islamist terrorist organizations.
This is how VoteVets responded to this news.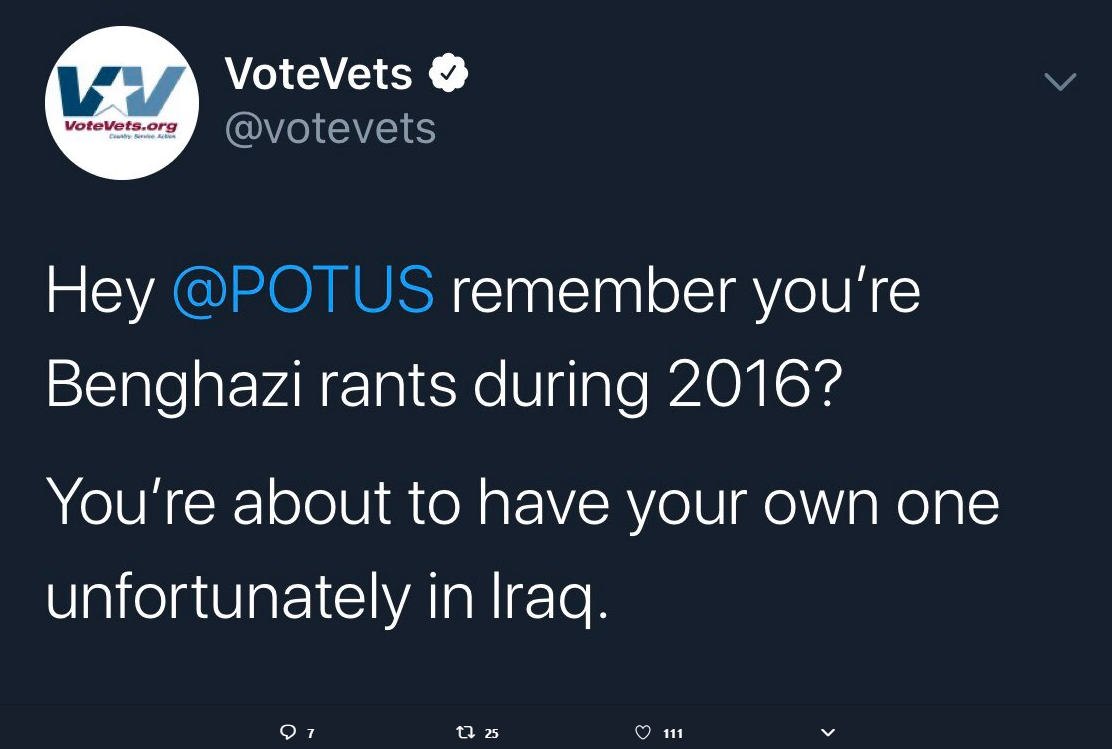 At Benghazi, four Americans, two of who were former Navy SEALs, were killed.
A Progressive veterans organization is giddy with the idea of American diplomatic personnel and servicemen just to for Trump to have some egg on his face.
Is this the esprit de corps of the US military?
What sort of veterans say, let alone think, "I hope my comrades overseas get killed to make Bad Orange Man look bad."
What do you think such soldiers would do on the battlefield?
How quickly would these servicemen turn on civilians on the other side of the political aisle?
I don't need the military to be a bastion of GOP voting Conservatives.  But "anything embarrasses Bad Orange Man, even the deaths of US troops at the hands of terrorists" is not an attitude that should exist in the ranks.
This is no different than the anti-gunners who are disappointed by a CCW taking out a shooter in a Texas church because a high body count mass shooting helps their anti-gun activism.
This does not bode well for the military.