First time debuting in the blog we have Americans for Responsible Solutions. ARS is spearheaded by the Barbie and Ken of Gun control, Gabby (I was for gun rights  till I found out I could make more money in Gun Control) Giffords and her husband (Mark (David Bowie ought to make a song about me) Kelly. To celebrate their first official mention in the blog, let's try this one for size: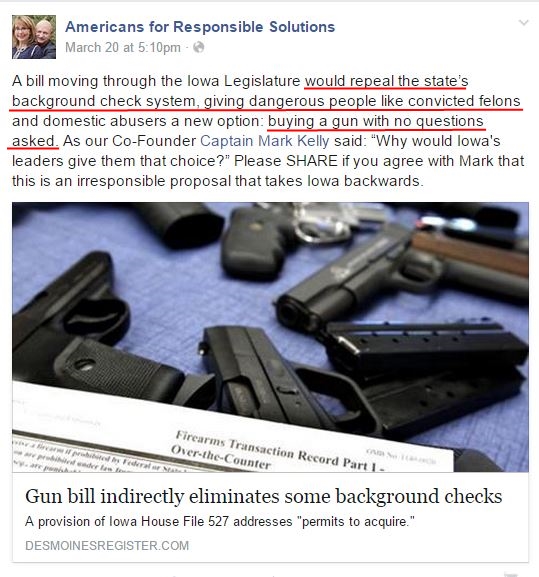 I checked and if I am not way off the mark, Iowa has a funky system to buy firearms: You basically need a permit from the government to go buy a sidearm from a FFL. This Iowa permit demands you get a background check in order for the permit to be issued. There is not such requirement for long guns.
Now, unless there is something I am missing, Iowa permit or not, when you go to a gun shop to buy a gun, you still have to go through the background check, form 4473, etc. The bill simply wants the state permit to be eliminated since you still have to go through a background check at stores and gun shows, in other words, let's get rid of an unnecessary redundancy.
But according to Ken und Barbie Gun Control World, Iowa would sell guns to anybody without any type of background checks…which at least over this side of the planet (and probably yours) is a lie.
But it is OK as they are allowed to lie you just make sure you send your cash donation to Americans for Responsible Solutions.