The Sun Sentinel has an editorial today pointing out the failures of Sheriff Scott Israel and how the new Governor should remove him from office. Even though the paper  has done a great series investigating the school board and the failures that led to Cruz shooting Parkland students, very little has been aimed at Israel.
In fact, the article has a lot of "I have come here to bury Caesar, not to praise him" writing. The Sun Sentinel hits on the greatest Liberal hits including LGQBT politics, Gun Control and opposition to Stand Your Ground and by the feel of it, feels like they love the guy.  But the Marjory Stoneman Douglas High School Public Safety Commission  Report does not paint BSO in a good light,   in fact They even dare mention that they felt the need to defend him for the shooting the same they did after the colossal screw up at the Fort Lauderdale Airport that also produced a very negative report basically comparing BSO's preparation to the best efforts of the Keystone cops.
And, of course, Sun Sentinel presents a bit of a balance.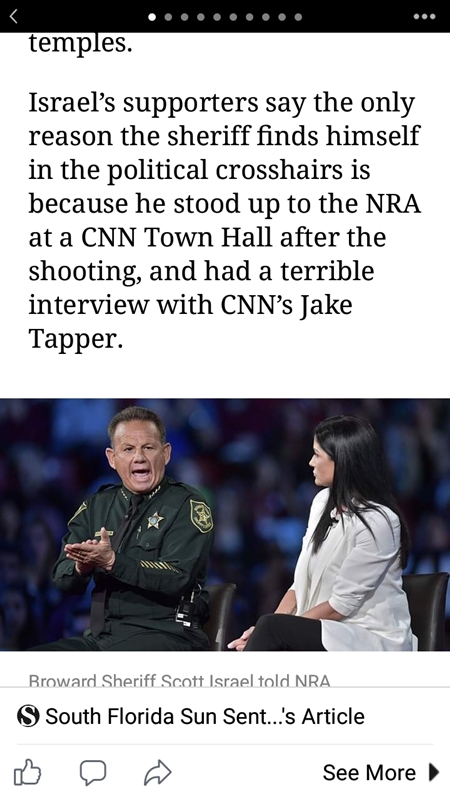 But they fail to mention that at the time of the CNN Town Hall, nobody but the Sheriff and a few insiders, nobody knew about the cowardly failure of Deputy Scot Peterson and how his lack of action helped Cruz gather more victims. I am not sure of the internal process, but I would not be surprised to find out that while Israel was being all righteous on stage looking down on Dana Loesch, the procedures to allow Deputy Peterson retire with full benefits were already in gear.   But one thing is certain: He knew it was his agency who had failed to the community and not the NRA, not Dana Loesch and certainly not Gun Owners.
As stated in the beginning, the Sun Sentinel is expecting the new Republican governor sends Israel to an early retirement, but one wonders if they had the same desire to do so if the incoming chief executive for the state had been Gillum instead. De Santis should take his time, read the report with calm and make the necessary noises of disgust for let's say six months or so before dropping the sword on Israel. If the Democrats want to play politics, we should let them wear that albatross around their collective necks a bit longer, don't you think?