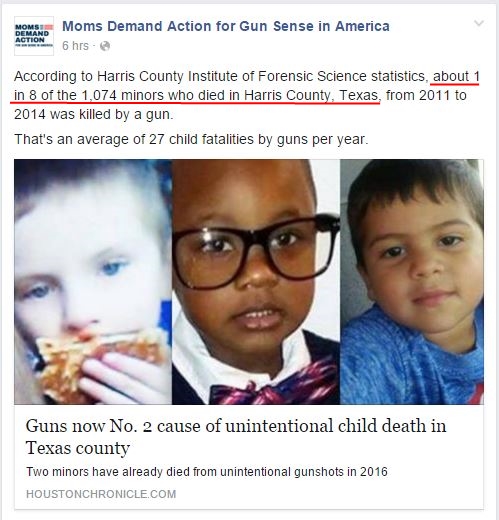 Here is the original writing of the article:
Only motor vehicles account for a larger percentage of accidental deaths, according to Harris County Institute of Forensic Science statistics. Of the 1,074 minors who died in Harris County from 2011 to 2014, about 1 in 8 was killed by a gun, according to the data.
Source: Guns now No. 2 cause of accidental child death in county – Houston Chronicle
That comes about 134 accidental deaths by firearms in Harris County in 4 years or 33 deaths per year. Thankfully Texas has this search engine from the Department of State Health Services much like the CDC engine. It does not show the info for 2014, but I went ahead and checked for 2011 through 2014 all causes of death for ages zero to 24. Please click to enlarge.
So either 2014 had a bumper crop on accidental shootings in 2014 for people from Zero to 24 in Harris County (127 accidental deaths by firearms) or something is not kosher in the original article. Now, CDC reports the number of deaths by Accidental Discharge of Firearms (zero to 24) in the United States for 2013 was 176. That would mean Harris County had 72% of all the accidental deaths by firearms for minors and not so minors in the country.
I don't think so.
Now, it would be kind to say "well crap, somebody made a mistake in the article. Stuff like that happens." but when they do not dare to give you firm numbers but go with statistical niceties like "One in Eight" and the only number that they show is probably the only one that people will remember (1,074) and associate with accidental firearm deaths, I do tend to detect the fragrant whiff of editorial BS and possible fraud in the name of gun control politics.
Always Check Raw Data.
PS: And in case you haven't noticed, Drownings was the second cause and poison was third. Again we are including minors up to 24 years of age.