I caught this on Twitter.  Space Force has announced their uniforms.  Hint: they went with the same OCP camo that the Army and Air Force currently use.
The first #SpaceForce utility uniform nametapes have touched down in the
Pentagon. @EsperDoD @SecAFOfficial @SpaceForceCSO @GenDaveGoldfein @DeptofDefense@usairforce pic.twitter.com/Jvzt5bvNl7

— United States Space Force (@SpaceForceDoD) January 18, 2020
Twitter, being a cesspool of humanity with a Left-leaning bent went on the attack, with the kind of idiocy you'd expect.
This was my favorite: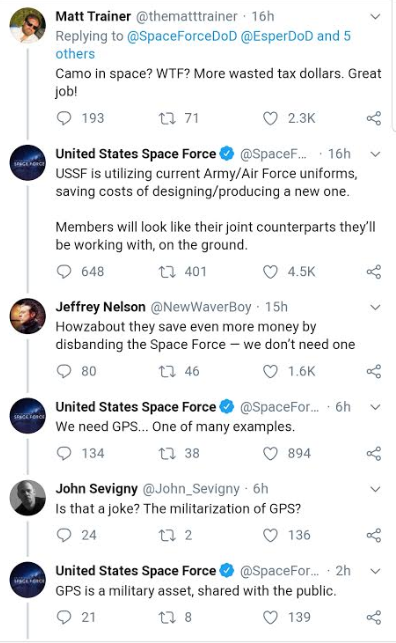 This is dumb as a box of shit stupid plus Orange Man Bad.
Where do these people think that GPS came from?
Was it something that Steve Jobs or Google launched to sell cell phones?
GPS was dropping bombs on Saddam decades before these dipshits bought their first TomTom.
If it wasn't for our desire to hit things with cruise missiles over line-of-sight, these numb-nuts wouldn't have it in their phones.
Really, I feel that people this stupid should be punished.  I think the most appropriate way for them to be pushed for being so remarkably brain dead towards Space Force is this:
They lose their privilege to satellite communications.  They should all be forced to use nothing but landlines for the rest of their miserable lives.