(Remember, not a professional study, just my simple tally of things seen in the videos available in YouTube)
I went over a hundred videos in YouTube to see if I could get some sort of pattern we could use to lower the number of guns stolen from cars. I wanted to know basically how long it takes for a burglar to break in ransack and leave with goodies and what was the method of entry. I ended up tallying 63 videos that clearly showed method of entry and ran the entire time from the moment entry to the vehicle was gained till burglar left. These videos are the original from the victims either posted by them or a few LEO agencies that did not edit the content. Videos from News organizations were not tallied as they edited for time. Still those videos edited gave me confirmation of many of the things I will mention later down this post.
Let's say I had assumptions and  they were shattered.  I figured busting windows was the favorite way to gain access and that it took them 3-4 minutes to go through the car and steal all the stuff.
Method of Entry:

73% Unlocked vehicle

17% Breaking window

7% Window down

2% Locked forced open

2% Trunk left unlocked
People, it is not a question of gear, it is  question of absent-mindedness, of carelessness and irresponsibility, specially when you find out that over 90% of the videos were home surveillance videos.  Basically, 82% of the break ins are the fault of the owner of the vehicle. They were preventable.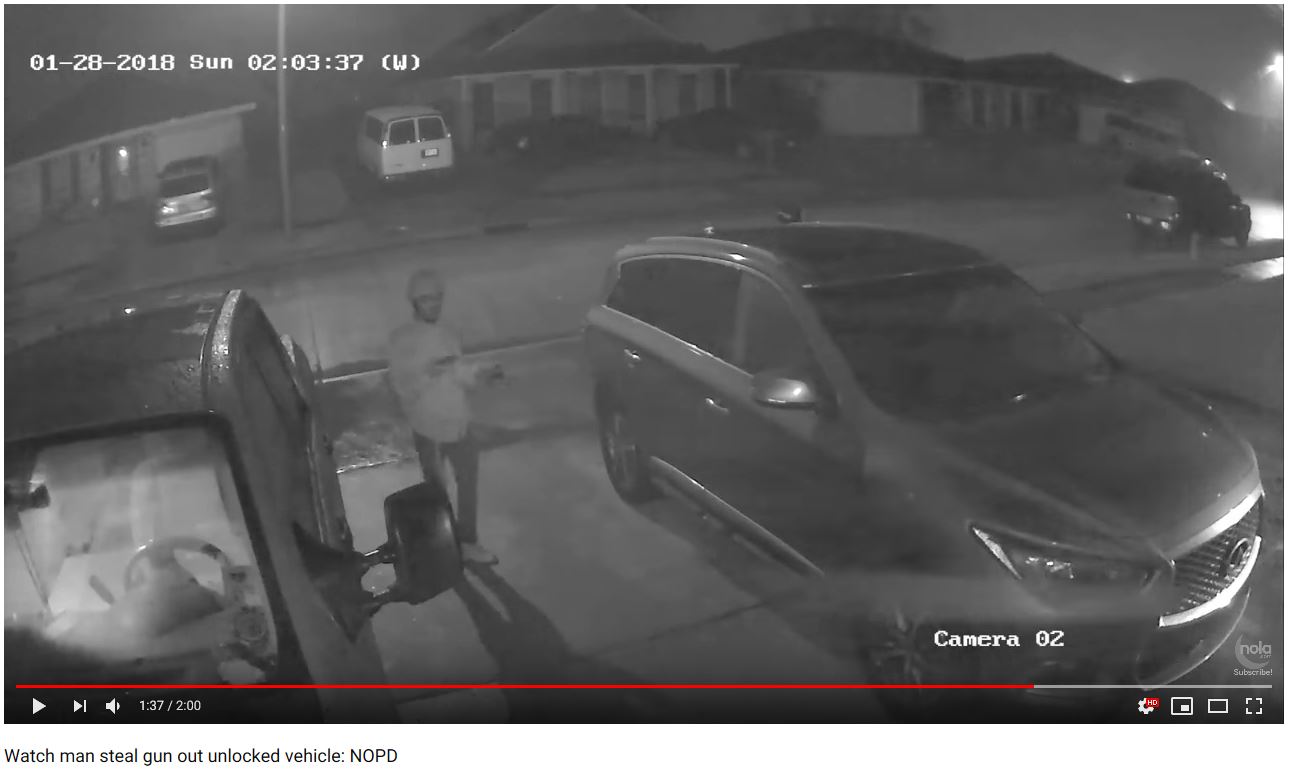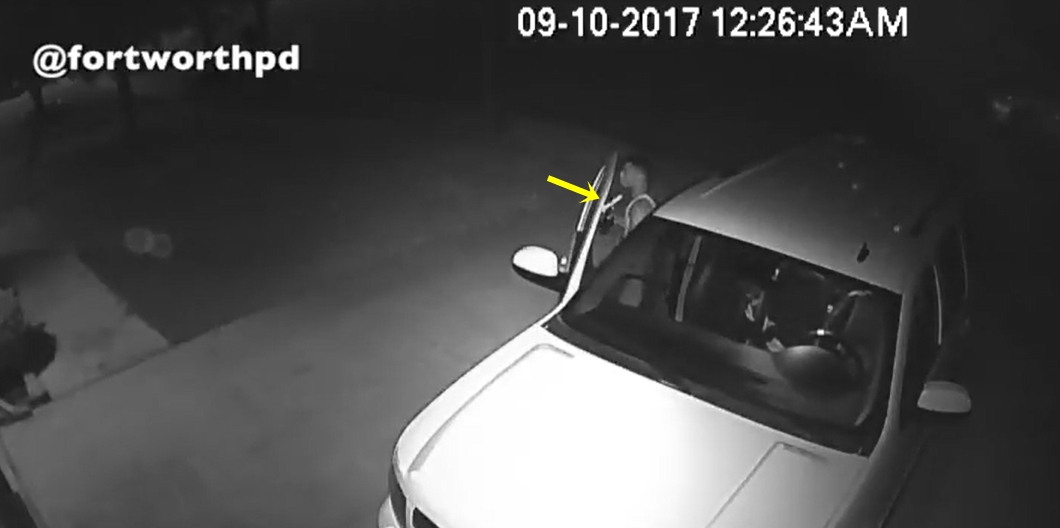 The screen caps above are from burglaries where I know guns were stolen from vehicles parked at home! Why in the name of all that is holy did the owners leave the frigging guns in the unlocked car?
And I heard some with the ditty: "It is a Gun Free Zone, but I'll be in and out in  couple of minutes" or "I just need to run inside the house quick, it will only be a minute." Well, I have bad news for you when it comes to a burglar breaking in, ransacking your car and leaving without being caught: the average time for a burglar to do your car is 39 seconds.  That is a TV commercial break and a teaser for the Six O'Clock news. It takes you longer that to take a piss and wash your hands, and even longer for a woman.
And here are other interesting stats related to breaking in time:
Average burglary (From Door Opening to burglar exiting the vehicle with the goods): 39 seconds.

Fastest time: 3 seconds (Smash & Grab)

Longest time: 261 seconds (4 minutes, 21 seconds)

86% of the burglaries took under one minute.
Almost all  burglars will go fully inside the vehicle.  Center console, glove compartment and under the front seats seem to be the first places they check from what I was able to see. Rear seat, floors and door pockets close the line up. Trunks get very little consideration. Surveillance cameras and motion sensor lights have zero deterrent effect as they either don't see the cameras, don't care if they are there and do not get scared about lights. Noise however is different. Car alarms will send them running and in couple of instances I saw if they break glass at a car parked at home, they will move down the street and wait to see if somebody comes out. If nobody comes, then they take their time inside the car. They guy who did the 261 seconds was one of them.
One important thing I saw was that the most common thing they carried with them tool-wise was a small flashlight. I saw very few videos with burglars using tools and the feeling I have is that they specifically targeted already cased vehicles. Except in one occasion, the vehicles were working vans or trucks with tools inside. The exception was one car with six figures worth of jewelry in the trunk.
Other information I gathered:
Most cases involve one individual on foot.  Two may go on foot or one checking cars and one in a getaway car. Three or more tend to involve one getaway car (Car Hopping: A group may go through a neighborhood and discover several vehicles with their doors unlocked. From there they will "toss" the vehicle and take anything of value.) One burglar ransacking per car.
Tools: The few that broke windows, appear to use spring-loaded glass breaker, one had a small hammer and some sort of punch and another used a rock. For thee rest, several had just a flashlight to see the inside of the car and many wore gloves, probably as not to leave prints. I saw no pliers, bolt cutters, torches, etc.  with the regular burglars.  The only exceptions were only on a couple of work vehicles and I think they  had cased them prior to the burglary.
Most checked door: Driver's door.
Let me repeat this again: Burglars do not care or don't even bother to look for surveillance cameras.  They don't mind the automatic flood lights either.
That's it. I am already working on another post about what I learned here. It will go up tomorrow and I will have my ideas on what we should do to reduce firearms stolen from vehicles and I hope you share yours in that post too.