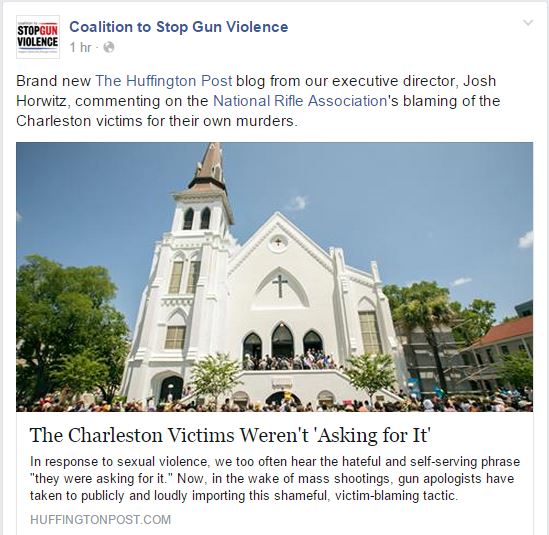 Brand new The Huffington Post blog from our executive director, Josh Horwitz, commenting on the National Rifle Association's blaming of the Charleston victims for their own murders.

The nine innocent Americans murdered in Charleston were exercising their fundamental freedom to worship in a manner of their own choosing. Because they chose to pray without weapons does not mean they were "waiting for it." It means that they were trying to live their lives as the Constitution envisions — in "domestic tranquility."
Source: The Charleston Victims Weren't 'Asking for It' | Josh Horwitz
Here is the original:

Was the reply tacky? Probably a wee bit too early and strong.
Was he blaming ALL THE VICTIMS? Certainly not.
Was he blaming State Senator Clementa Pinckney? Most assuredly.
Was Senator Pinckney responsible for the shooting? Of this particular attack, No. In general? That is a different story.
Why does Josh Hortwitz have to? Because he can get away with it.
I am going to go as far as saying that I would not be surprised if it were to come out that the Emanuel A.M.E. Church had armed security in a regular basis but probably only used for big services.  Many churches do and they choose not to inform their parishioners because they know some will object at the idea of having armed people in a Church because they believe in that magical force field of Sanctuary. Yes, even your church.
If you want to know what really happens behind the scenes at a church regarding security, you should listen to this episode of ProArms Podcast. You are not alone in this little piece of dirt called Earth and your Church is not an isolated, worry-free-everybody-nice locale.