I found 2 extra gas cans last night and decided that it would not hurt to add 10 more gallons to the supplies.  South Floridians are officially driving in the polite/aggressive mode which means they will cut ou off, but won't shoot/machete you outright.
Kidding aside, there is palpable anxiety which leads to people making dumb decisions like playing chicken with a shopping cart and cutting off the gas station line.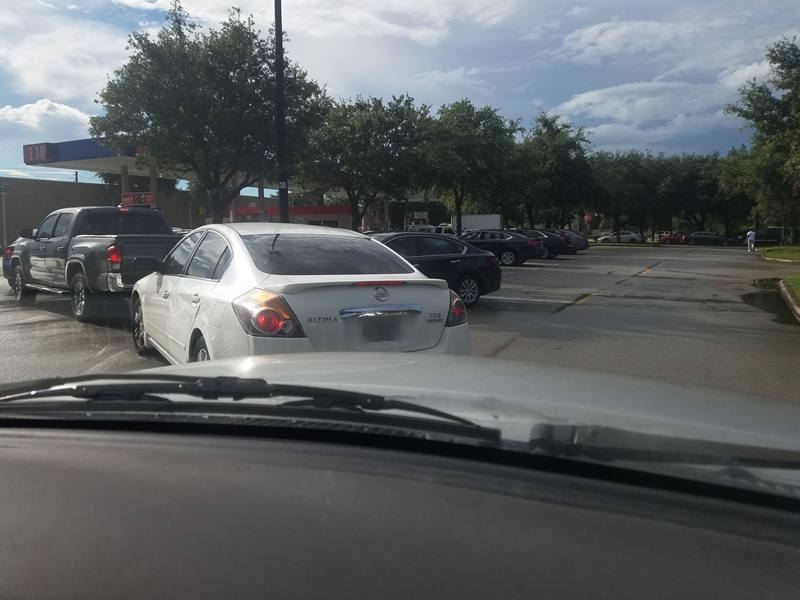 The black car had tried to cut in front of the truck whose owner went mad max and would not let him. The whole pack behind closed ranks to keep the interloper out and he was not happy at all which is why I started taking pictures.
Then something smart happened: the moment the line moved, the guy in the white car allowed the black car to go in effectively defusing any situation that may have risen in the contest of genitalia.
And that was the move to make.
Your number one philosophy for personal security should be a life long commitment to avoidance, deterrence, and de-escalation.

Avoidance: The act of avoiding or keeping away from (Three Stupid Rule.) If you can safely retreat from the encounter, by all means do so. For instance, if you are out for a walk and feel threatened or intimidated by an occupant of a car, you should retreat in the opposite direction that the car is traveling.
Deterrence: The act of discouraging someone from taking hostile action against you by being aware of them and their possible intent.
De-escalation: The act of decreasing in intensity. To not let your ego or emotions get the best of you, to refrain from escalating the problem into more than it already is. As a CCW you may need to back down from non-life threatening, argumentative encounters in order to not allow things to spiral out of control.
When these things do not work, then and only then may you need to show or use the gun. Just because we are carrying does not mean that we need to use the gun. You want to do whatever is reasonably possible to avoid using the gun. But when your well researched, well thought out "line in the sand" has been crossed you need to act without hesitation.

Roger Phillips.