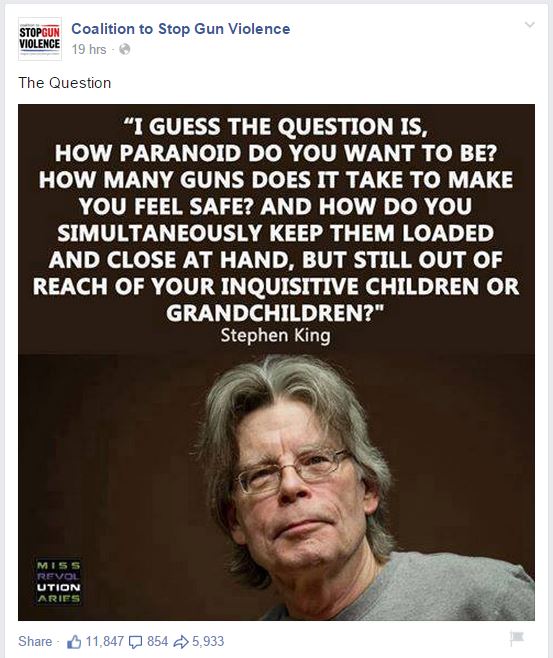 I might be a wee bit off, but that is not one question but three. OK, let's play anyway.
1) How paranoid do you want to be?
Paranoid is what the Unprepared call the Ready.
2) How many guns does it take to make you feel safe?
You still don't get it. It is not a question of "feelings" and you do not get to dictate what can I own and use for my defense. Incidentally, how many guitars do you own? You only need one to play music.
3) And how simultaneously keep them loaded and close at hand, but still out of the reach of your inquisitive children or grandchildren?
Well Stephen, I am surprised that you being involved with "Gun Safety Groups" do not know the answer to that question. But there is hope for you; you see, the NRA has a bunch of nifty classes you can attend and tackle that and any other questions you may have regarding Firearms Safety. There are NRA instructors in your area and in fact, there is a Home Firearm Safety Course to be held in South Berwick, on 3/15/2015 with Lois Kupersmith (nra@sbrga.org). If that is too soon, there will be another in Windham, on 4/12/2015 with Anthony Sweet (sweetgundeals@yahoo.com.) You will find all the answers you need with them.
I am so glad I was able to help. You do not need to thank me.