They are having moaning fits about this quote: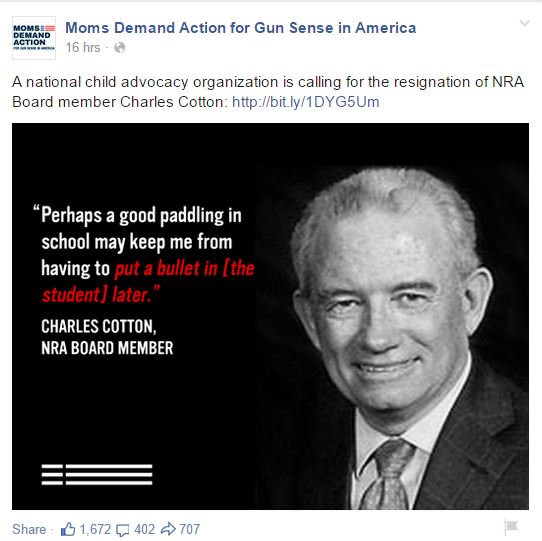 Shannon Watts and the rest of the harpies are demanding the resignation of Mr. Cotton. Well first, you guys don't get to demand squat and specially for stuff said by anybody. If that were the case, Shannon would be in her 30th resignation by now.
And although I am not advocating the use of a cat o' nine tails on babies, I do believe that the proper application of behavioral modification techniques by via of controlled pain works like a charm in subduing really bad conduct.  But we have become such a nation of whiners that kids see through our lack of resolve and get away with all kinds of crap.
Now, if this kid does not have his behavior corrected and soon (and no amounts of time outs will help) he will end up either in a morgue slab or like in the second part of the but with cops beating the everlasting shit out of him.
Of course, a spanked kid who then learns certain conduct is not acceptable does not generate traffic and headlines for Moms Demand Action. Only those who bleed are acceptable, brownie points if the die.