but if you HAD a High Point, you could trade that for a taco at Jack in the Box during a disaster without giving away your real gun. I'm not saying that The Judge was valueless, far from it. You could probably get them to Super Size your Big Mac meal.
This came about during an online discussion and really tweaked me the wrong way. There is a very high level of snob among gun owners about the less than "awesome" brand of firearms and how they are by definition unworthy trash.
The Taururs,  Hi Point, Bryco, the Raven, Jennings etc, apparently belong in a leper colony away from the delicate eyes of gun owners. What specially pisses me off is that although not making it into the Valhala of Guns according to those who "know" they still fulfill a very important role: They go bang and can save a life.
I attribute this attitude to a gun battle lost many years ago in Congress: The prohibition against importing what was considered a low cost, cheaply made sidearm which ended up know as the Saturday Night Specials. Gun owners back then did not mind or gave a care because  they were not "Real Guns" like a proper Colt Python or a custom tricked 1911. But the issue is not the safe queen we can brag about at the range but the need for somebody who is not in the best of economic levels to have something to defend him or herself when the bad guys come 'a knocking.
When I was starting to date SWMBO I was unaware that her roommate was being stalked by a former boyfriend and both were being the target of a local pervert who would suddenly show up at their townhouse' back yard, expose & play with himself. By the time cops arrived, he was long gone and was never caught. Both girls were in not very good paying jobs and could not afford a "Real Gun" so they ended up with an used Raven in .25 caliber (I seem to recall they paid $40 for it) just like in the picture below: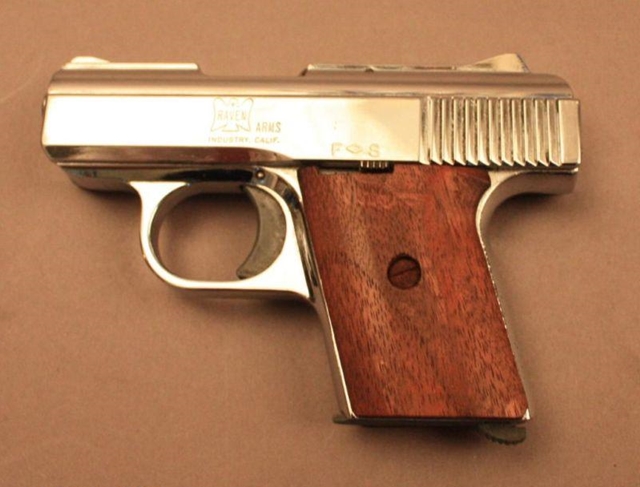 The gun came to play twice: the first time Ex-Boyfriend showed up one Saturday night all stupid and the Raven was aimed at his body. He suddenly remembered he had previous engagements somewhere else and left with a great deal of energy. Without going into details, but that same weekend the Ex ended up involved in a murder and got himself a nice vacation at the Gray Bar Hotel courtesy of the Tennessee taxpayers.
Mr. Perv was a bit more elusive. He did appear one Saturday morning while the girls were sunbathing on the back area of thee domicile. He got closer this time while doing puppet tricks with his anatomy. Once again the little silver Saturday Night Special" made an appearance and Mr. Perv (according to the girls) screamed and ran away never to be seen again.  I was told of the latest encounter the same day it happened and shown the little Raven to whic I had to congratulate them and gave them a we bit of hell for not telling me before. I was still young and stupid to understand the great equalizer a gun was and the fact that my role as knight in shinning armor was not needed as long as the women had the proper tools to defend themselves.
Not too long ago we saw the video of a Detroit Mom facing three Home Invaders with a 9 mm carbine. She did not use a M4 variant set for 9mm or any of the "Real Long Guns" out there but a lowly H-Point Carbine: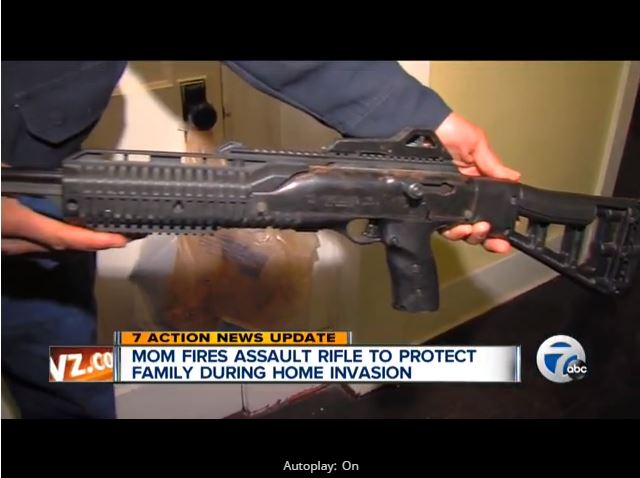 Now, the family could have followed the snob response and wait till they had enough money to buy a "Real Carbine" in 5.56 by Daniel Defense ($1,500 and up) but instead they bought an under $300 gun, had money left for a cheap surveillance security system and ammunition which she happily shared at high velocity with the Home Invaders.
And before you come back and give me the Guns and Ammo Top 100 Reasons Why a Saturday Night Special Sucks, I have a challenge for you: If you really believe SNS are such a pile of crap unworthy to save lives, I will load a 9mm Hi Point with Simmunitions and I will ask you to serve as target ten yards away. Any rejection will be considered a win on my part.
Any takers?
---
Update: Missing video added.