If you are not revisiting your plans after what happened in France, you better get start doing some.
First, let's revisit a video:
Now, I do believe in recording for posterity events like this. But I also believe that we are better served if we do not need to do so because we had a long gun instead of a smart phone. So, if you don't have a rifle, get one. It does not need to be a fancy four-figure AR, it could be a plain used Savage bolt action (good rifles for a decent price) but have one, have it sighted. Just hitting one of the two jackasses above would have cut a lot of the grief and chaos we saw on TV.
But what happens if you are not at home and you see this crap happening from street level? (We are going to dispense with the "My first duty is to make sure that I am safe and I get to run away" chat for this post and we are gonna be thinking Urban Encounter)  Here is where the concept of a Truck Gun comes into play.
First of all and I forgot to point this out on a previous post: Make sure you have a way to secure your Truck Gun in your vehicle. Let's go above and beyond on security and not just the bare minimum even if it is legal.
We will be needing a portable gun (Non-NFA to keep both cost an rectal pains down) that shoots a caliber that will deliver enough energy up to 100 yards. In my opinion, the bottom of the list would be the .357 Magnum followed by .44 Magnum. Yes, both are pistol rounds but both will get nasty out off a long barrel with the .357 Magnum behaving almost like a .30-30 which is not something to sneeze at. The gun for this two calibers? Either a take-down lever action (If you could find one not so damned expensive) or the Rossi Ranch Hand pistol.

Next, any of the Pistol version of the AR or the AK. Even with a shortened barrel, they will be delivering plenty of power.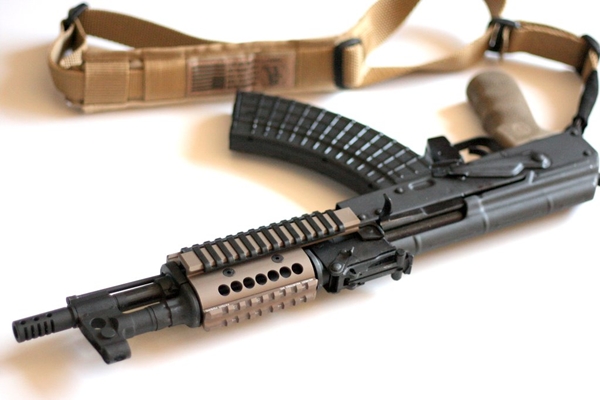 The ballistics of both are well-known and capable for the 75-100 yard range even though we would probably be shooting at lesser range. 20-round mags on both for ease of manipulation.
Last, a shotgun: Mossberg Maverick Over/Under Shotgun.

This would be the longest of the guns but still shorter than any other shotgun (unless you go NFA), it has only 2 shots and you better be using slugs. Mostly for those who feel comfortable with a shotgun than with anything else. And in the hands of a properly trained person, nothing says better "Hey, Johnny Jihady, stop your crap!" than a one ounce slug at 1,000 fps.
I already heard some morons experts popooing the idea of civilian schmucks facing "highly trained" terrorists like the Kouachi Brothers. First, anybody looks professional when nobody is shooting back and second civilian schmucks can and have faced trained killers before. Don't forget that Texas Clock Tower shooter was Former Marine Charles Whitman had three rifles and 700 rounds of ammunition when he killed 14 people on August 1, 1966. He was not able to increase that tally even having both the means and the tactical advantage because of the shooting coming from Civilians and their personal long guns that kept him harassed enough and distracted enough till Austin PD Officer Ramiro Martinez was able to reach the top of the tower and take him out.
And it goes without saying: Always carry a sidearm with plenty spare ammo. Might not be a rifle, but it there with you and it is better than saying "Please don't shoot me."