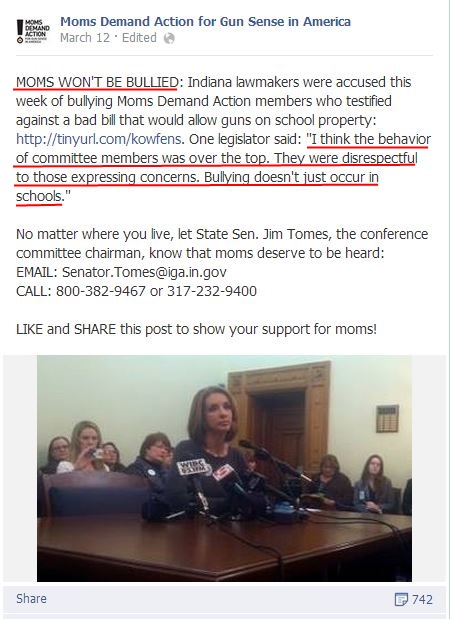 "I think the behavior of some of the committee members was a little over the top," said Rep. Terri Austin, D-Anderson. "They were disrespectful to those expressing concerns. Bullying doesn't just occur in schools."
So what was that deplorable behavior that some mean committee members engaged in? Were they making fun of her looks? Her clothing? Called her bad names? pushed her around? Shoved her in a locker?
Nope here is what happened according to the JournalGazzette.com:
It got especially heated when Zionsville mother Shannon Watts, of Moms Demand Action for Gun Sense in America, testified.
For every statistic she used, Lucas countered from a book he carried. For every statement she made on mass shootings, another lawmaker would refute.
Lucas even pointed out her maiden name and read a list of her previous jobs to note her expertise in media and marketing.
So Shannon Watts get challenged on GMO "facts", refuted and asked about her past employment and she complains she was bullied.  Somehow she is so saintly, so "morally" above the rest of the peasants and even legislators that she is not to be bothered with such minutiae as the truth?
Truth & Full Disclosure: The New Bully Technique.
Or as someone said: Like turning the lights on and see the cockroaches run and hide.
Hat Tip to @ReviveLiberty