No matter what Traditional media source you pick up in Middle Tennessee, the COVID situation is portrayed with a panicky shrillness that taht reminds you of the scream queens of the 80s horror movies.
Take Davidson County and the stats for Infected and deaths since the pandemic started: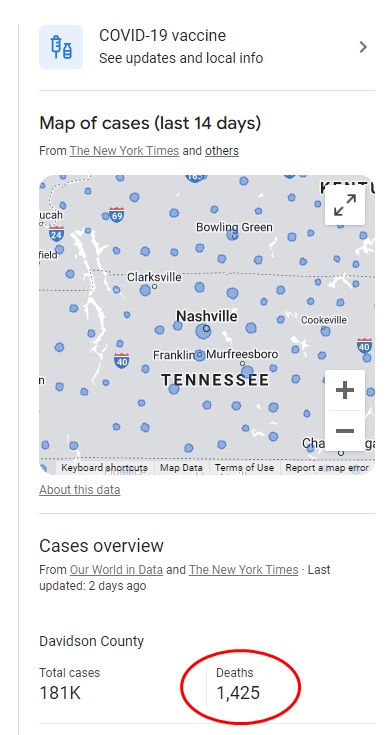 That comes about 0.78% deaths out of the infected population or a survival rate of 99.12%. Not to dismiss the deaths as inconsequential, but we ain't talking Black Plague or Ebola death and destruction either.
However, there are other deaths that are barely being mentioned with the same horror as COVID.
NASHVILLE, Tenn. (WKRN) — A new report from the Metro Nashville Health Department shines a light on a very dark subject — overdoses hitting a record high in Davidson County. The director of the overdose program told News 2 if something doesn't drastically change, the city could see another record-breaking year.

The quarterly report revealed more than 700 people died in 2021 from a suspected drug overdose, the majority of them laced with fentanyl.
Davidson Co reached record high drug overdoses in 2021 (wkrn.com)
That kinda shocked me some. We are talking almost half the deaths of COVID in the county since the pandemic started. I went to look for the numbers for 2020 and found them.

For 2020 we had 621 cases and for 2021, 712 for a total of 1,333 overdose deaths in the 2 years of the "worst pandemic in history! ZOMG!"
I tried to find out the number of opioid addicts for Davidson County, but I could not get an estimate anywhere, but for the whole state, the government calculates some 70,000 Tennessean are addicted to them. I therefore cannot calculate and compare percentages, but it does not take a mathematical genius to figure out either Deaths by OD are out of total control or Deaths by COVID are totally overblown.
I'll take both options.