Poll after poll and hard voting in Florida giving Trump the win in the last elections has made it clear that the Hispanic vote was no longer joined at the hip of the Democratic Party. It was time to come down on the treasonous spic shits that went to the Dark Side and tag them as Hateful Racist Bastards.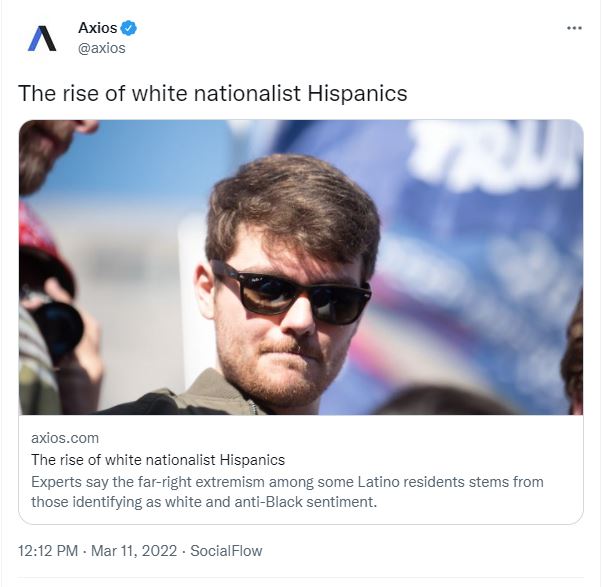 What they're saying: Experts tell Axios far-right extremism within the Latino community stems from three sources: Hispanic Americans who identify as white; the spread of online misinformation; and lingering anti-Black, antisemitic views among U.S. Latinos that are rarely openly discussed.
Far-right, neo-Fascist Latinos becoming more visible (axios.com)
If you have read the blog for any length of time, you know I have touched on the particular likes-dislikes Hispanics carry within our culture. Yes, they exist, but contrary to what the Axios "experts" say, it is not based on color but Nationality. Mexican and Hondurans look alike, but they do not like each other (The way Mexicans treat Honduran illegals would make most Libs excrete in their La Perla panties), Colombians and Venezuelans have been throwing shit at each other since 1830 give or take a couple of years and Panamanians split from Colombia not because they did not like Cumbia. If you go down the list of Latin American countries, you will find this "dislike/hate" repeated over and over with the exception of Argentinians who pretty much nobody south of the Rio Grande like.
Are there Hispanics that do not like Blacks or Jews? Shit yeah. You just need to traipse to Argentina. Uruguay and Paraguay where there was a heavy German immigration sometime in 1945-46 to find some true haters. The Argentine Israelite Mutual Association was blown in Argentina some years back and although attributed to Hezbollah, the evidence and investigation showed heavy local participation by non-Muslims and the case was eventually botched (op purpose many say) by the authorities.
But what the "Experts" are trying to do is scare the Hispanic renegades to come back to the lettuce patch and be good brown skinned pickers for the Democrats. And if they refuse to come back, they will be tagged as "gusanos racistas" (racists worms AKA traitors) and badmouthed till they are shunned by the community. But as long as the "Experts" continue to shoehorn Hispanics within their pigeonhole of color rather than culture, they will keep failing as we come in may colors, races and religions. Before Jessie Jackson came with the Rainbow Coalition club, Hispanics had been that for over a Century.