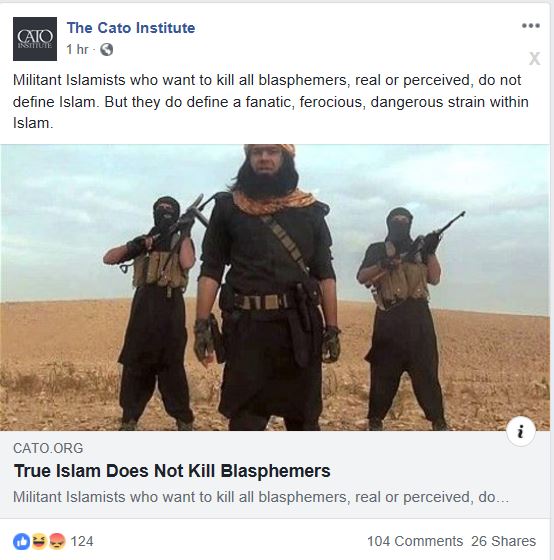 It is not a long article explaining why this whole killing and mistreating of non-Muslims is really a recent thing. The author pretty much blames the Ayatollah Ruhollah Khomeini for starting the whole thing in 1989. Basically the extreme Islamic thing is not even thirty years old for this senior fellow of the Cato Institute.
Except history is a quirky thing. You see, the Prophet Muhammad dies in Media in Anno Domini 632 and by AD 711, just 79 years later, the Muslims were invading what is now Spain and subjecting is habitants to death if they did not swear allegiance to Islam or they could pay a recurrent "fee" to remain "free" or simply become slaves.
So, unless they want to revise the article and say that in 79 years the Islamic Jurisprudence went for Kumbaya My Allah to Just another bunch of assholes exercising power via religious fiat and military power, I have to say that Cato Institute is looking for a place in the Liberal Democratic Party table.
The Libertarian Movement has died. It is now a Zombie for Hillary 2020.