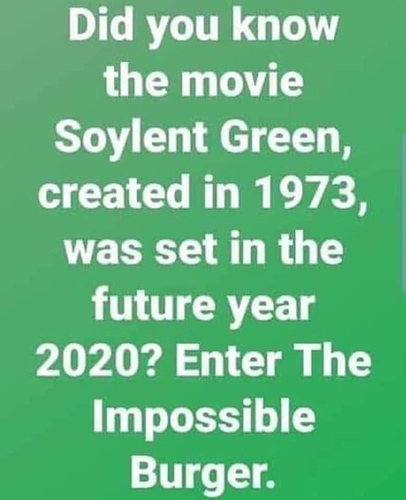 We are in the Month and Year of Blade Runner and rather than be hunting Replicants, we are chasing Pokemons. Go figure.
I guess I was raised in an era where all future was dystopian: From reading 1984 and A Brave New World to watching The Planet of the Apes, Soylent Green, Silent Running, Rollerball and Clockwork Orange. We were supposed to be dead or living in a poisoned & hungry world, yet we are not even sneezing hard.  We are under the spell of a 24/7 Surveillance & Entertainment society, but still there are ways to deflect that. And at least in this country it is still possible to make politicians think a total takeover may not be the healthiest course of action.
As for Soylent Green, with the new apostles of food purity, we need not to worry. While the Impossible Burger and other "plant based" Soylent Blue meat-like foods are the new rage, I doubt they would allow for Human Flesh Based foods unless certified politically Halal (Socialist human raised in Almond milk, tofu and kale). I am still trying to figure out why the same morons have no problem doing their best to block the use of Golden Rice in nations with severe Vitamin A deficiency (VAD) in about 250 million school children across the world. Oh yes! The evil GMO is present which is worse that blind kids in poor nations.
OK, so we are indeed in a dystopian future, just much cleaner and with WiFi.